Vidnami Review - How To Create Videos
What Is Vidnami?
Vidnami (formerly Content Samurai) is an online video editor software that lets you produce professional videos very quickly and easily.
If you want to create crazy awesome videos that get your message across in a very professional way, Vidnami is the online video editor to check into.
Not only is it quick and easy to use, but it also requires no prior techical knowledge whatsoever. Plus it's flat out fun.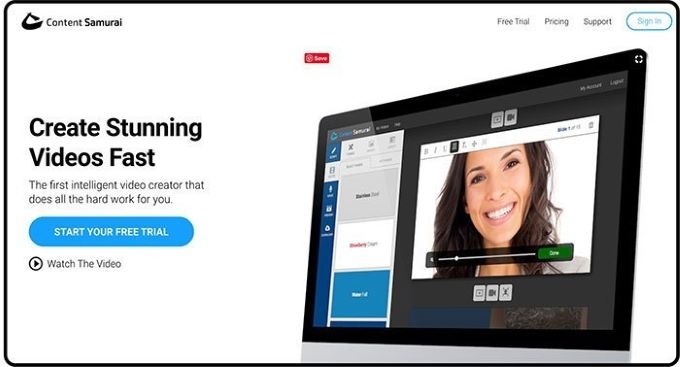 How To Create Videos
You can use Vidnami to create videos for social media sites, blog posts, influencer videos, facebook or instagram ads, sales videos, online courses, and any other way you choose.
You don't have to be on camera or use your own voice if you don't want to, you can use Vidnami's Auto Voice feature.
You don't have to download or install anything either, it's a web based app that you just log into and start creating videos.
Vidnami allows you to create as many videos as you'd like. There are no limits on how many videos you make. Some video creating softwares limit how many you can make per month.
I have used this software to make dozens of videos for 2 different channels I have on YouTube...You can check out those channels and see the videos I have produced using the Vidnami video editing software.
Daily Bible Verses Explained
The Daily Quotz
Vidnami Is An Online Video Editor
Vidnami is so simple to use that no prior video editing experience is required.
All you need to do is follow the step-by-step system to create awesome videos in minutes of your time. (Really, it's that fast)
Video marketing is the most popular method of content marketing. Video is quickly becoming the internet marketing method in which individuals or businesses are able to promote their brands, products, services, or other specific topics.
Videos convey your message faster and more efficiently than any other kind of content.
Video Marketing Stats
Videos attract 300% more traffic than any other kind of content.
73% of U.S. adults are more likely to purchase a product or service after watching an online video.
70% of marketers say that video gets them higher conversions than any other type of content.
64% of marketers say video will dominate their marketing strategies in the future.
Vidnami Is 100% Beginner Friendly
When I first started I wasn't very tech friendly, to say the least.
However, I was able to use Vidnami immediately out of the gate, with a very small learning curve. I was making videos within minutes of trying this software.
So if you've been hesitant to get into video marketing because you don't know how to use complicated online video editing software to make your videos look polished and professional, then you are in for a treat.
With this software, all you have to do is make a few simple mouse clicks and your video can be done in just a few minutes, depending on how long your video script is. (Seriously)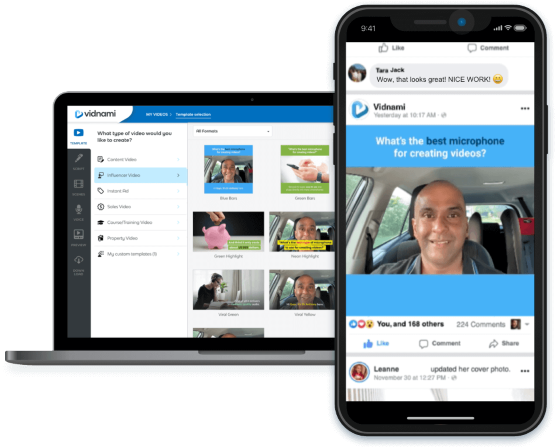 Vidnami Online Video Editor Features
Built in royalty free media.
Vidnami provides millions of royalty free video clips, images and music that you can add to your videos.
112,000,000 high quality images
Over 790,000 video clips
125,000 music tracks
Besides all the built in media, you also have the option to upload your own video clips, images and music tracks.
Record Your Own Voice Or Use Vidnami's Voice Overs
I like to record my own voice on my videos, but many people don't want to do that...no problem, you can use the Vidnami Auto Voice feature.
You'll have the option of using 14 different voices from the US, Australia and England, Complete with accents.
Or you can just have music as the background and no voice at all.
You have multiple options with the Vidnami online video editor.
How You Can Make Money Using Vidnami
Create your own video creator service:
Create your own website* to sell your service or join a freelance website like fiverr.com or upwork.com and start your own gig providing professional video services.
Target a specific niche in a popular market, such as real estate, bitcoin, investing, natural remedies, dentists, roofing companies, builders, etc. The possibilities are endless.
That is just one example of how you could use Vidnami to make money.
You could also make videos promoting affiliate offers, create video ads for people, use it to create a course and sell it, monetize with Youtube or Adsense – the list goes on and on.
These are just a couple of examples, I'm sure once you try this software, you'll have many of your own ideas on how you could make some extra cash using this online video editor Vidnami.
Vidnami Video Demonstration
I have created a video showing you how easy it is to make videos using the Vidnami software. You can watch it right here.
Ok, Let's Wrap This Up
Vidnami allows you to create beautiful, professional looking videos with auto generated captions, video clips, images, and voice track, in just a few mouse clicks.
It's easy to use and requires no prior video editing experience.
Just follow the on screen steps and click next. It's really that simple.
What I love most about Vidnami is the team that backs this software.
Team Noble Samurai (creator of Vidnami) is a team of video software warrior's that make sure Vidnami is updated regularly with all the latest features, tech, interface, media, and bug fixes.
Vidnami is constantly being maintained and updated in order to remain the best online video editer tool in the industry.
Video consumption is at an all time high and this upward trajectory is not going anywhere anytime soon. Plus, if any time is the best time to start creating videos, it's right now.
Try Vidnami Free For 14 Days
And best of all, Vidnami offers a 14 day free trial without the need for a credit card, so you know they won't just automatically take your money after your trial ends as many shady companies do.
Special Back Door Offer - 25% Off For Life
If you think Vidnami is something you would like to use regularly, you may be interested in signing up and purchasing your membership straight away.
The normal price is $47 per month, but if you use this link, you can get an automatic 25% off and only pay $35 per month as I did. It's way worth it.
*Need a tool to create your own website or pages?
Consider using GroovePages, it's an excellent page builder I use to create all my web pages, (including this one)...check it out right here.
Copyright | Jeffrey Keith 2020